Hustling a Weiner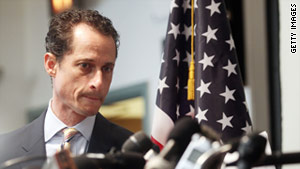 Larry says that he is serious ... and he might be ... but the offer is humorous ... but for Weiner it is probably humorless.
CNN article
Larry Flynt, porn publisher and erstwhile snoop into the sex lives of politicians, has offered a job to disgraced former U.S. Congressman Anthony Weiner. Flynt, founder of Hustler Magazine, made the job offer in a letter that was published in The Huffington Post on Thursday.

"This offer is not made in jest," wrote Flynt. "Just as we do not undertake insincere political crusades, we do not make insincere job offers."

Weiner could not be immediately reached for comment.

Flynt's job offer came within hours of the congressman's resignation on Thursday over a sexting scandal.

In the letter, Flynt offered to give Weiner a 20% raise above the salary he earned in the U.S. House of Representatives, ensuring the former congressman's medical benefits would match what he had received in office.

Flynt also offered to pay Weiner's moving expenses to Beverly Hills, California.

"While this employment opportunity is being offered in large part due to your qualifications and clear passion for making a change," Flynt wrote, "I feel that your unfortunate resignation is a prime example of unfounded political pressure and the hypocrisy that has invaded democracy in Washington, D.C." ...
Larry, "Clear passion for making a change..." now that's funny Larry. All the "change" Weiner was trying to make was ... behind closed doors ... so to speak.

You want to hire him? You think you can trust him? Have at it Larry.

xtnyoda, shalomed
H/T Jeremy
Labels: spiritual stupidity